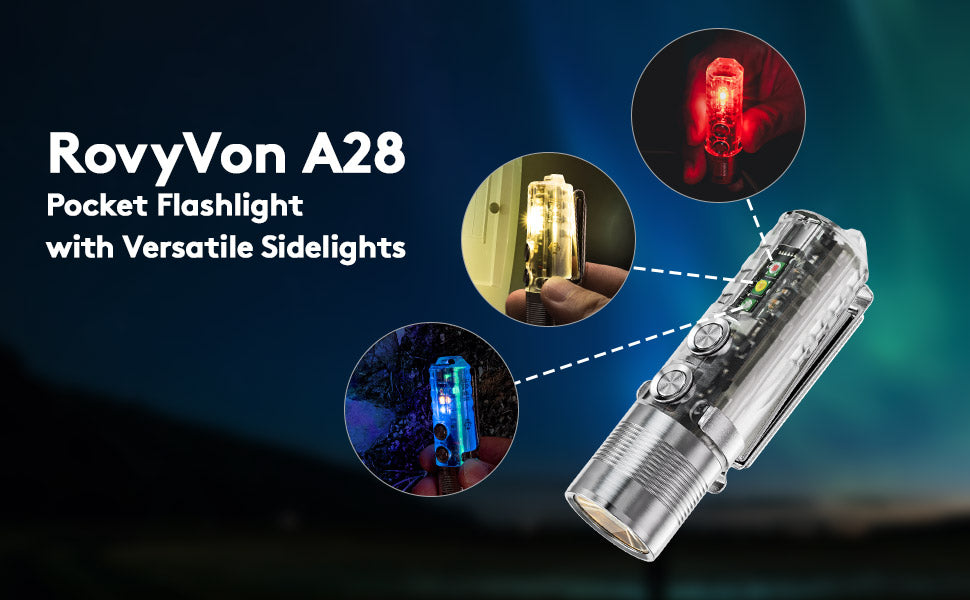 The 2nd generation Aurora A28 EDC flashlight is upgraded in the following aspects, 

USB-C rechargeable

Larger battery from 600mAh to 850mAh capacity

Dual switch for user-friendly

Lockout mode

Instant access to moonlight and turbo mode

3 LEDs on the side

Detachable, two-way, and magnetic pocket clip
USB-C charging is standard and universal nowadays, it's convenient to charge your EDC Aurora A28 with any USB-C device like your laptop, quick charge power bank, and wall charger, etc. And the larger battery reduces the frequency to charge and surely increases the runtime. 

A dual-switch design gets the interface simpler, the top button is for the front light, and the bottom button is for the sidelight. And the detachable pocket clip comes with a magnet, and with the sidelight, the A28 is not only an EDC flashlight but also a work light for hands-free work.
How to use

Button 1 (For front light)
1. Lock: with the light switched off, a long press for 5s to lock, and the front light will flash twice.

*The operation below is under unlock status (check Button 2)
2. Moon: with the light switched off, click to turn on, then click again to turn off.
3. Constantly on (daily modes): rapid double click to turn on (memorized mode)
(1) Change modes: click to cycle thru Low-Med-High-Turbo
(2) Turn off: press 0.5s
*The last-used mode will be memorized after the light was turned off.
4. Emergency modes: rapid double click to turn on from Strobe mode
(1) Change modes: click to cycle thru Strobe-SOS
(2) Turn off: press for 0.5s

Button 2 (for momentary on & Side LEDs)
1. Unlock: with the light locked, long press for 3s to unlock, and the FRONT LIGHT will flash 3 times.
2. Momentary on: with the light switched off, press and hold for Turbo mode of the FRONT LED, and release to turn off.
3. Side LEDs
A. A28U (UV+Red+White)
(1) White
A. Turn on: with the light switched off, single click
B. Change modes: then click again to cycle thru Low-High
(2) Red
A. Turn on: Rapid double click to turn on from Low mode
B. Change modes: click to cycle thru Low-High-Flash-Beacon
(3) UV: Rapid triple click to turn on, then click to turn off
(4) Turn off: press for 0.5s

B. A28WU (White/UV/White)
(1) White
A. Turn on: with the light switched off, single click
B. Change modes: then click again to cycle thru Low-High
C. Turn off: press for 0.5s
(2) UV
A. Turn on: rapid double click
B. Turn off: click or press for 0.5s

C. A28R (Red/White/Red)
(1) White
A. Turn on: with the light switched off, single click
B. Change modes: then click to cycle thru Low-High
(2) Red
I. Constant on
a) Turn on: rapid double click to turn on from Low mode
b) Change modes: click to cycle thru Low-High
II. Signal
a) Turn on: rapid triple click to turn on from Beacon
b) Change modes: click to cycle thru Beacon-Flash
(3) Turn off: press for 0.5s

2 year warranty

On all products since the purchaste date.

secured payments

by PayPal and main stream credit cards

Free Shipping

Over $99 get free postage shipping